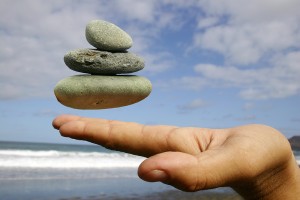 I like my collaborators to have a life! I'll contribute to this as much as I can. I Also like them to love work and be inspired! We do that together. I admit I have sometimes had to bite my lip and remind myself what I want from them. The old ways seep in and I second guess my leadership if someone needs to leave early for personal reasons. I want to create a community in the workplace. Somewhere to share our lives as well as the work we do together. It usually works well and attracts the kind of independent, driven people I want in my company. Can this be abused? Yes. Are those people still on my team? No.
My organization is of course a small operation, but still, I have seen the principle work in my corporate clients' workforces. If you need to supervise the life balance of your team one way or the other, they are not truly engaged in work. Work that is attractive and makes people feel like they are offering significant contributions to the organization and the world rarely has trouble with finding engaged individuals.  Results are commonplace and time is always used wisely.  It is when work is handled like it is unimportant that people will do it only because of the pay or because there is the perception that they "have no choice".
It is interesting to me how much we worry in the corporate setting about whether people are abusing the company and slacking off.  Wouldn't we be better off exploring how compelling our work offering is?  After all, we all know people that love their job and do it with a heart regardless of what it entails.  I know this valet guy at my club that takes my car and always has a smile and happy word for each person.  I told them the other day that it looked like he enjoyed his work, in spite of the heat and running around all day.  He said he felt he was helpful and liked greeting people so they could relax once they were here.
True engagement will leave you energized instead of depleted.  I notice every Tuesday as all 20 of us come in from our day jobs to rehearse the BIG BRAZZ BAND.  Some of us arrive a bit late and tired from traffic or the day's work.  As the music begins, our energy rises and by the time we take a break we are a lively group, ready to share laughs and musings and pizza!  When you are enjoying yourself, even working hard at it – like a 2 hour rehearsal after a full day's work – your energy rises and you feel like connecting and sharing and pitching in.  Does this happen when you get home?  Are you ready to play as hard as you work?  Are you engaged with the people around you?  Find engagement in your job and this will most definitely be the case!
So, you want your team to be engaged?  Help them find joy and purpose in their work.  Do it by first asking yourself if you have joy and purpose in your every day on the job.  It is not the nature of work, but the way we interpret it that makes it a true extension of our life mission or a dull way to pass the time.  So, seek until you find.  Share.  Have fun! Have purpose!  And you may never have to talk about engagement again.  You will be to engaged in life!